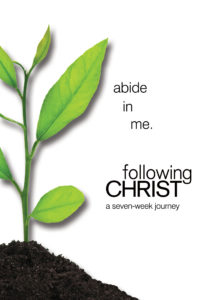 REGISTER FOR ADULT FAITH SHARING SESSION, NOW!
New Session of ChristLife: "Following Christ"
Begins Wednesday, September 14, 7 p.m.
Want to go deeper in your relationship with Christ? Are you interested in learning how to establish a regular and consistent prayer life? Ever wonder about the power in the Sacraments?
A new session of St. Anne's ChristLife Adult Faith-Sharing Program, "Following Christ" is beginning on Wednesday, September 14, 2016 at 7 p.m. All adults 18 years and older are encouraged to register for this 7-week program. Below are the dates:
Sept 14: Daily Personal Prayer
Sept 21: Hearing God in Scripture
Sept 28: The Power of the Sacraments
Oct. 5:     Forgiving One Another
Oct 12:   The Spirit‐Empowered Life
October 23: Retreat: The World, the Flesh, and the Devil
Oct. 26: Advancing the Mission of the Church
Nov. 2:   Celebration
Following Christ is the second in the three-part ChristLife series. It is not a prerequisite to have participated in the first session. All are welcome. You're encouraged to bring a friend or relative, and bring your desire to explore the faith. The format of each session includes a light dinner, a DVD/teaching, small group discussion and music to open and close the session. There is no cost to the program, however a recommended goodwill offering of $5 per session is recommended to off-set costs for dinner and materials. You can pay as you go or pay at once. Registration is required. Individuals can call the parish office at 262-942-8300 or visit www.saint-anne.org/events/
-###-
2nd and 4th Wednesdays  "Wonderful Wednesdays"  continues on April 13 and 27 
We've created a "Wonderful Wednesday" opportunity for parents of young children to come together with their kids and play and pray at St. Anne.   This is a free drop-in program from 9:30-11am the 2nd and 4th Wednesday of the month where parents/grandparents can bring their little ones (NO registration required; NO age limits) to play together in the Multi-purpose room.  This is a supervise-your-own-kids kind of a morning, but we'll have a plastic kitchen and grocery store set complete with pretend plastic spaghetti and meatballs to say the traditional Catholic meal prayer over, some puppets including Baby Jesus and King David, and dress-up clothes, etc. and we could share snacks and songs and loosely organized play time together in a safe environment where Catholic parents could grow in fellowship with one another, swap stories of shared struggles, etc.  We begin again on October 14th.  It's a great way to spend a Wednesday!  In a safe space that cares for both parent and child! Exact dates are as follows:  Oct. 14 and 28, November 11, December 9th, Jan. 13 and 27, Feb. 24, March 9, April 13 and 27.
 Pajamas & Prayers  on April 20 from 7-8pm
No registration necessary.  No age limit.  Bring the whole family so there will be enough laps for your little ones.
Bedtime books, late night lollipops, preschool prayers… sound good?  Perhaps you enjoy these wonderful traditions at home under the covers on a nightly basis with your children.   We'd like to invite you to change up your night-time routine just once in a while to be with us here at St. Anne.   Once per liturgical season parents are welcome to bring their kids in their jammies to hear stories (the lollipops help us stay quiet) and see a VeggieTale Video and close with prayers.  Bring as many family members as you like (the more laps the better) and we'll say, "Goodnight!" to Jesus and to our parish family before falling asleep in peace.
"In peace I shall both lie down and sleep, for You alone, Lord, make me secure."  Psalm 4:9
Join us  on April 20 from 7-8pm in the Atrium (larger of the two new classrooms)