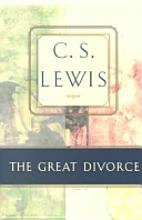 A 2-minute book review by Fr. Bob Weighner
During this time of the liturgical year, when the Church invites us to reflect on the 'apocalypse', the revealing, of what will be when our days on this earth come to an end, a very timely book is The Great Divorce by C.S. Lewis.  It is a short book that can be read quickly, and offers a novel, compelling, brilliant psychological analysis of those attitudes and relationships which keep us from letting God and neighbor into our lives.  These things are often so subtle that we don't realize the damage they are doing to us.  The Great Divorce is not about divorce, but about an incredible flying bus that transports willing souls to an in-between place, where each has an opportunity to revisit the life
that he has lived, and to be invited to a place higher and deeper into the divine life.  Lewis teaches that, ultimately, the choice is up to me – if I want God, then I will have God.  Life without God is dreary, grey, fruitless and frustrating.  Life with God is light and joy.  It is one of my favorite books and I know you won't regret discovering it for yourself.  Every time I read it I discover something new, and have a hard time putting it down until the last
page.