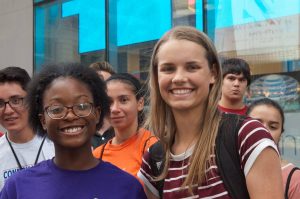 We have another great year planned for High School Faith Formation and Confirmation Preparation. See the highlights below!
MONTHLY SCHEDULE
REQUIRED 1st Sundays, Large Group Class: All high school students will meet together on 1st Sunday mornings from 10:30 – 11:25 am. Groupings will be by class: Freshmen, Sophomores and Juniors. This will be an opportunity for teaching and small group discussions.
REQUIRED 2nd Sundays, Break-out Class: On 2nd Sundays, classes will meet in grade level groupings: Freshmen, Sophomores, and Juniors.
REQUIRED 3rd Sundays, Parent & Youth Session: On 3rd Sundays, parents and youth with gather together for joint formation session
JUNIORS will have greater focus on preparing for the Sacrament of Confirmation. This includes working toward all sacramental requirements such as a questionnaire sent to the bishop, selection of a saint name, etc. Please visit our Confirmation Resources page for more information regarding the sacrament of Confirmation.
HS Discipleship Calendar 2023/2024
(Tentative until September 2023)
HS Discipleship & Confirmation Requirements 2023/2024
CLASS LEADS
Each class will have "leads" who will communicate with parents on a regular basis, plan the curriculum and service projects for their class, and most of all foster an open and comfortable environment for students to explore their faith.
Freshman Lead:
Young men: Bob Lasch – rlasch@gmail.com
Sophomore Lead:
Young men: Mike Nuzzo – mikenuzzo52@gmail.com
Junior Lead (Confirmation):
Young women: Mary Mowry – mmowry@saint-anne.org 
Young men: Rich Sosa – rsosa@saint-anne.org