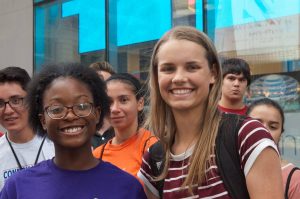 We have another great year planned for High School Faith Formation and Confirmation Preparation. See below the highlights.
MONTHLY SCHEDULE
REQUIRED 1st Sundays, Class Time: All high school students will meet  on the 1st Sunday evenings from 6 p.m. – 7:30 p.m.  Groupings will be by class: Freshman, Sophomores and Juniors. This will be an opportunity for teaching and small group discussions.
REQUIRED 3rd Sundays, Mass Ministries & Large Group Time: On the 3rd Sundays, there will be Youth Mass in the morning at 11:30 a.m., where every student will have at the opportunity to serve in a worship ministry. Then at 6:00 p.m.-8:00 p.m., we will will come together as one BIG group (all grades together) typically with a guest speaker, more prayer time, more music and more time for personal reflection. This is in direct response to student feedback!
LIFENITE 4th Sunday FunDay:  All high school students can come together in an informal way to chill, be themselves, and have some fun together. The purpose is to build community among our parish teens!
CURRICULUM
FRESHMAN, SOPHOMORES and JUNIORS will use Matthew Kelly's Decision Point program. The program includes DVD and small group discussion.
JUNIORS will have greater focus on preparing for the day they receive the Sacrament of Confirmation. This includes working toward all sacramental requirements such as letter to the bishop, selection of Saint name, etc.
SENIORS are invited to all 3rd Sundays and to volunteer and help with the catechist team in any of these classes!
SAVE!  UPCOMING DATES
A full year calendar will be distributed prior to orientation. For now, mark your calendar with these dates:
August 31, 2018 — Registration deadline
September 9, 2018 — Parent/Student Orientation, 12:30 p.m. — 2:30 p.m.
September 16, 2018 — First Class Student Orientation, 6:00 p.m.
September 23, 2018 — LifeNight for all classes, 6:00 p.m.
October 7, 2018 — All classes meet, 6:00 p.m.
October 21, 2018 — All students attend and participate in Mass, 11:30 a.m.
October 21, 2018 — All classes meet, 6:00 p.m.
November 9/10, 2018 — St. Anne Retreat
CLASS LEADS
Each class will have "leads" who will communicate with parents on a regular basis, plan the curriculum and service projects for their class, and most of all foster an open and comfortable environment for students to explore their faith.
Parent Orientation Materials, Download Here
Junior Confirmation Requirements, Download Here
High School Discipleship Schedule 2018-19
Freshman Lead:
Rich Sosa: rsosa@saint-anne.org
Sophomore Lead:
Mike Nuzzo: mikenuzzo52@gmail.com
Junior Lead (Confirmation):
Margie Mandli: margie.mandli@gmail.com