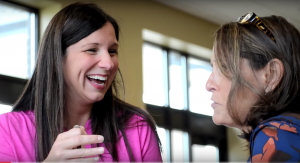 Welcome to the St. Anne's Women's Ministry. The GRACE Group is for all women! GRACE stands for Growing in Relationship Among Christ Everyday! GRACE meets in-home on Wednesday evenings at 6:30 p.m. and in church on Thursdays at 9:30 a.m. Our hope is that you can connect with women of all stages of life – single, married, empty nesters and seniors! Our format includes book studies, guest speakers and Gospel reflections. Sometimes we take field trips. And, sometimes we serve families in our parish that are going through a hardship, either through prayer or meals. We also serve the Blessed Mother through a special flower ministry – where we place fresh flowers near her statue every week.
The GRACE Group will resume meeting on Wednesday evening, September 8, and Thursday morning, September 14, 2023 with "Mysteries of the Rosary" study
Registration is now open for the Fall session of the Women's GRACE Group. The study will be from the Wild Goose Series, Mysteries of The Rosary ( Sorrowful Mysteries). This new session will begin on Thursday, September 14 and will run for seven weeks.  Click here to register
Enter into the Mysteries of Christ and Rediscover the Power of the Rosary. Mysteries of the Rosary (The Sorrowful Mysteries) is a 7-episode series highlighting the Mysteries in the life of Christ as outlined in the decades of the Rosary. Mysteries of the Rosary integrates deeply reflective insights on the life of Christ, theological truths, and captivating stories together with breathtaking scenery, illuminating sacred art, and inspiring music. By filming on location in the Holy Land, our aspiration is to make the Rosary come alive in the hearts and minds of the viewer. Encounters with Christ in the episodes and discussions will help lead to even deeper encounters with Him in personal prayer and contemplation.
GRACE Group meets every Thursday from 9:30 a.m. to 11:00 a.m. in the multi-purpose room. This series will begin September 14 and will run for 7 weeks. Stay tuned for more registration information next week. Cost will be $10 to cover supplies. The GRACE Group is for all women of the parish, all ages to come together to "Growing Relationships Among Christ Everyday." It's a chance to fortify our spiritual life and grow our faith in our Lord. All women are welcome. Bring a friend.
Below is a short video about our GRACE Group Women's Group.
Core Team:
Margie Mandli, Chair, margie@findingyourgem.com
Denise EHR, Morning Lead, abbachild7@gmail.com
Debbie Micksch, Morning Lead, debra9m@gmail.com
Women of Christ
The Women of Christ story began in 2007 after the overwhelming success of the Men of Christ conference. A hunger exists amongst the lay faithful that needs to be fed, especially for women. Society tells us to be something so much different than what God calls us to be. Our hope is to clear the fog and bring to light the authenticity and truth of God's gifts just for women. Check out this wonderful conference at www.womenofchrist.net. St. Anne will coordinate carpooling and registrations so that we may attend as a parish.