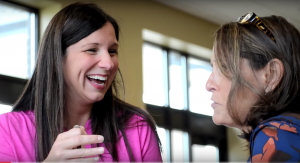 Welcome to the St. Anne's Women's Ministry. The GRACE Group is for all women! GRACE stands for Growing in Relationship Among Christ Everyday! GRACE meets in-home on Wednesday evenings at 6:30 p.m. and in church on Thursdays at 9:30 a.m. and again at 6:30 p.m. Our hope is that you can connect with women of all stages of life – single, married, empty nesters and seniors! Our format includes book studies, guest speakers and Gospel reflections. Sometimes we take field trips. And, sometimes we serve families in our parish that are going through a hardship, either through prayer or meals. We also serve the Blessed Mother through a special flower ministry – where we place fresh flowers near her statue every week.
The GRACE Group will resume meeting on Wednesday evening, September 8, and Thursday morning and evening, September 9, 2021.  We are thrilled about the selected programming for this coming year. Our GRACE Leadership team met over the summer and discerned the following programs:
The Chosen Series (Season I) (Sept 8 through November 3/4)
Ephesians: Discover Your Inheritance (by Ascension Press) 8-weeks (November 10/11 through January 19/20
The Chosen Series (Season II) February 2/3 through March 23/24
The Chosen is a multi-season, multi-episode show that digs deeper into the backstories and context of the people and events in the gospels. Continue with us on our journey discovering Jesus anew as we seek to live out our faith as his followers. This series has received rave reviews by many viewers, including some of our own parishioners.
In addition, our very own Mary Mowry, Faith Formation Director has been working with Jennifer Driscoll on a discussion guide for this television series, which will allow us to delve deeper into each episode. We will watch Season I in the Fall and Season II in the Spring.  In between the two series, we will study Ephesians. Click here to register.
Below is a short video about our GRACE Group Women's Group.
Women of Christ
The Women of Christ story began in 2007 after the overwhelming success of the Men of Christ conference. A hunger exists amongst the lay faithful that needs to be fed, especially for women. Society tells us to be something so much different than what God calls us to be. Our hope is to clear the fog and bring to light the authenticity and truth of God's gifts just for women. Check out this wonderful conference at www.womenofchrist.net. St. Anne will coordinate carpooling and registrations so that we may attend as a parish.