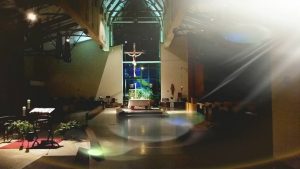 St. Anne Catholic Church, in Pleasant Prairie, Wisconsin, was established in 1998 to serve the young and growing population west of Hwy. 31. St. Anne is known for its warmth, generosity and hospitality, where families can grow and prosper through vibrant involvement in Parish life. The name St. Anne was selected in honor of a St. Anne parish in Milwaukee that had closed after 100 years. The Archbishop thought it was important to have a parish named after the mother of Mary in the diocese.
Our first Mass was celebrated on July 26, 1998 – the feast day of Sts. Joachim and Anne – in the cafeteria of Pleasant Prairie School. We celebrated Mass in our church for the first time on September 11, 2004. The church was dedicated on October 3, 2004 by Archbishop Timothy Dolan. Our offices moved to the church campus in March 2007 when the Parish Center was sold.
Today, there are more than 900 households that are part of St. Anne, with at least 50 percent of those households actively involved in parish life. Making and growing disciples remains at the heart of all we do. We believe this begins with our faith experience. Growing – in faith and spirituality – is a key pillar of parish life here at St. Anne. We know learning about our faith is a lifelong endeavor and is rooted in developing an authentic relationship with our Lord Jesus Christ. As the catechism teaches, we grow in our relationship with the Lord by:
Understanding our faith – what we believe as Roman Catholics
.
Professing our faith with confidence – through our actions, example
 and in serving God and neighbor
Living out our faith – in our families, in our places of employment and in our communities
And seeking our Lord through a steadfast prayer life – through various devotions and study groups
At St. Anne, we offer a number of ways to grow in faith. We invite you to learn on this website of the many ways you can grow in faith and with our parish community.