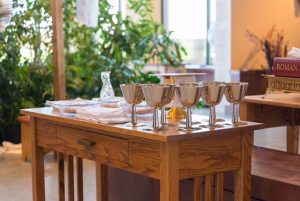 Holy Eucharist is a sacrament and a sacrifice. We receive the Eucharist every time we attend Mass. Students prepare to receive First Holy Eucharist (or First Holy Communion) usually when they are in second grade. Parents who wish to register their children for First Holy Eucharist may click here. You may also click here for Frequently Asked Questions about First Communion.
"Parents have the first responsibility for the education of their children…Parents have the mission of teaching their children to pray and to discover their vocation as children of God.  The parish is the Eucharistic community and the heart of the liturgical life of Christian families; it is a privileged place for the catechesis of children and parents."
Excerpts from CCC 2221-2226
"Children's preparation for first reception of the Eucharist begins in the home.  The family has the most important role in communicating the Christian and human values that form the foundation for a child's understanding of the Eucharist.  Children who participate with their family in the Mass experience the Eucharistic mystery in an initial way and gradually learn to join with the liturgical assembly in prayer.  Parents and the parish catechetical leader [DRE] or catechist, together with the pastor, are responsible for determining when children have attained the age of reason and are ready to receive First Communion."
Excerpt from the National Directory for Catechesis, pp. 126-127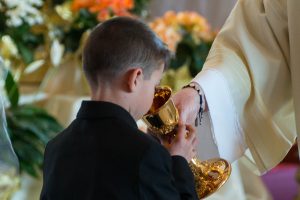 In the Holy Eucharist, under the appearances of bread and wine, the Lord Christ is contained, offered, and received. The whole Christ is really, truly, and substantially present in the Holy Eucharist. We use the words "really, truly, and substantially" to describe Christ's presence in the Holy Eucharist in order to distinguish Our Lord's teaching from that of mere men who falsely teach that the Holy Eucharist is only a sign or figure of Christ, or that He is present only by His power. The word "Eucharist" means "Thanksgiving."
Christ instituted the Holy Eucharist at the Last Supper, the night before He died. When Our Lord instituted the Holy Eucharist the apostles were present.
Christ instituted the Holy Eucharist in this way: He took bread, blessed and broke it, and giving it to His apostles, said: "Take and eat; this is My body;" then He took a cup of wine, blessed it, and giving it to them, said: "All of you drink of this; for this is My blood of the new covenant which is being shed for many unto the forgiveness of sins;" finally, He gave His apostles the commission: "Do this in remembrance of Me."
"Parish life itself is an aid to parents because it is here, at the Eucharistic banquet, that they are nourished by Christ Himself. The vibrancy of the parish community, the beauty of worship, and the example of generous love and service of parishioners strengthens parents in the faith."
From the National Directory for Catechesis: p.235