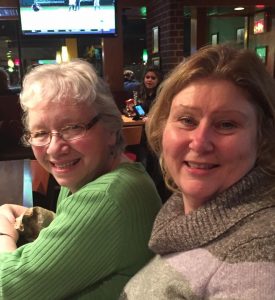 The St. Anne's STARS, is a group of mature adults with a true desire to encourage fellowship, charity and prayerful support of the needs in our community.
We meet the first Wednesday of every month at
noon
at Perkins Restaurant for lunch (Dutch Treat!), updates on what went on past month, and what we are doing for the month ahead. This is our main meeting. Men and women over 50 are welcome to join us! We have 5 or 6 couples that belong!
You are invited to join us in the various expressions of this ministry:
Several of us meet every Sunday at
3:00 PM
at Dunkin' Donuts on Highway 50 and 41
st 
Avenue, just to talk.
We have a book club that meets monthly.
Several of us go to GRACE Group together on Thursday mornings.
We do a bake sale every Palm Sunday. We have used our money for various parish needs.
We purchase flowers for St. Anne's altar on her feast day.
We bake and serve for Hospitality, the 2nd. Saturday night of the month, and at funerals when requested.
We volunteer for odd jobs that come along at church, such as parish wide mailings and Faith Formation.
We go to movies, plays, and have taken day trips together.
We are in charge of the votive candle stands.
If you have questions, contact any of the following:
Debbie Arndt – 262-960-0329
Pat Gorka – 262-652-7478
Jean Weisner – 262-948-1442