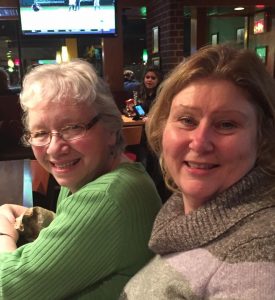 The St. Anne's STARS is a social, service and spiritual ministry for mature adults.  The STARS Ministry provides an opportunity to come together as a group and use our talents and experiences to support others and contribute to the needs of our parish community.  We welcome men, women and couples over 50 years of age to join.
We meet the first Wednesday of every month at 11:30 AM at Baker's Street  (6208 Green Bay Rd. Kenosha, WI 53142) for lunch (Dutch Treat).  At the lunch meeting we enjoy fellowship and discuss updates of last month's activities and plan activities for the month ahead.
Members of STARS participate in the opportunities that they desire.
SPIRITUAL OPPORTUNITIES:
Noon Mass 2nd Wednesday of the month is dedicated for STARS intentions
Day trips to Churches and Religious Shrines
Here to There: End of life discussion/prayer group that meets 9:30 am Fridays at Senior Apartments (9500 81st Street) in the Library
SOCIAL OPPORTUNITIES:
Organized day trips to plays
Book review club
Movie groups
Coffee Klatch that meets 3 pm Sundays at Dunk'n Donuts on 75th Street and 40th Ave Kenosha, WI
Annual Christmas Party
SERVICE OPPORTUNITIES:
Help with Parish tasks as needed/requested
Help out with Parish events as requested
Host Hospitality 2nd Saturday of the month after 5:15 pm Mass
Purchase and maintain Prayer Candles in the Sanctuary
Care & Display of Altar Flowers
Maintain Church Lending Library
Fundraise and purchase specific items for church such as benches for Grotto. One fundraiser is an annual bake sale (held on Palm Sunday).
Take part in international service projects
For more information and/or to register contact Dorothy Clark at 262.948.0286 or clarkbltn@sbcglobal.com