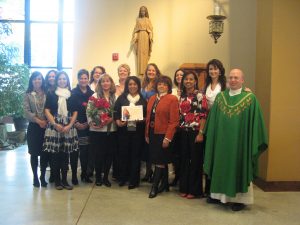 On Sunday, October 14, the first Sunday of the Year of Faith, 13 women from St. Anne completed their Marian Consecration at the 10:15 a.m. Mass.
Marian Consecration is a new way of life in Christ for all men and women. Very simply, it's allowing Mary's hand to lead you more closely to her Son. Becoming consecrated to Mary has been described by many as a turning point in their spiritual journey.  Click on this link to learn more about this Marian Consecration.
A recommended method for consecration is through a study called, 33 Days of Morning Glory written by Fr. Michael Gaitley. This method is considered an "updated" version of Consecration — with rich studies on various Marian Saints of our time. Read about Linda Bevec's journey (formerly a Lutheran) as she shares her experience of these 33 days.  https://saint-anne.org/2012/10/33-days-with-mary-by-linda-bevec/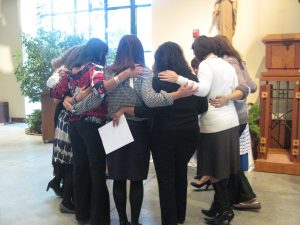 These 13 women studied, prayed and celebrated their consecration. If you're interested in learning more about the program (they'd like to share with all!), you may contact any of the women listed here. Sheryn Abraham, Linda Bevec, Sheri Clark, Lisa Craft, Esther Ficke, Kathy Hellwig, Maggie Hodge, Kathy Jalensky, Tracie Kenney, Margie Mandli, Anna Nuzzo, Chris Pillizzi or LeAnn Rogan.  (To left: They prayed the Hail Mary after Mass).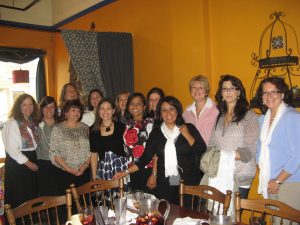 Celebrating at a luncheon with their families at Ole Madrid in Racine.
Click here to learn more about 33 Days of Morning Glory at the National All Hearts Afire Web site. http://www.allheartsafire.org/