BEHOLD, Divine Mercy Sunday, April 27, Noon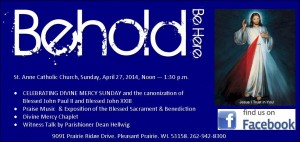 This year, Divine Mercy will be extra special! We will see the canonization of two GREATS, Blessed John Paul II and Blessed John XXIII. As some of you know, Blessed John Paul II was responsible for declaring Divine Mercy Sunday as a feast day in the Church. He had a great devotion to St. Faustina, and was committed during his papacy to spread the message of God's love and mercy to all.
On this day, St. Anne will hold a special BEHOLD at noon. We will hear from parishioner,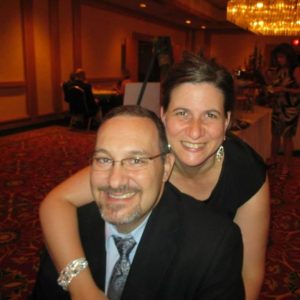 Dean Hellwig, who will share his special story of God's mercy. Last year, Dean experienced great trials in his life. After unexpectedly losing his job of 19 years to downsizing, two weeks later, he suffered unexpected medical complications from what should have been a simple removal of a gallstone.  He developed multiple organ failure, spent two weeks in a coma, multiple surgeries/procedures, a very long hospital stay, and months of recovery.  Through many prayers, rosaries and divine mercy chaplets said by hundreds of parishioners, friends, and the Dominican Sisters in Nashville, Dean made a miraculous and full recovery. He will share his story and how God's love gave him a second chance at life.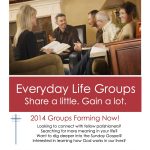 St. Anne Everyday Life Groups Forming Now!
Sessions begin first week of March
Looking to connect with fellow parishioners?
Want to dig deeper into the Sunday Gospel?
Interested in learning how God works in our lives?
In response to feedback we received during the Synod parish retreats, St. Anne is forming "Everyday Life Groups" where individuals will be able to meet other parishioners in a small group setting, study, reflect and discuss scripture to grow in faith. Studies have shown that individuals who participate regularly in faith sharing groups feel a greater sense of belonging to their church and as a result are more fulfilled in their faith journey.
"Everyday Life Groups" will begin the first week of Lent. The format will be simple and will include prayer, the upcoming Sunday Gospel, a podcast homily by Fr. Robert Barron, and discussion questions. Each group will determine their own meeting times, locations and optional hospitality.
We are in the process of recruiting small group facilitators. Facilitators simply need to have a desire to grow in faith, a natural ability to welcome other parishioners, and skills in leading a small group discussion. Facilitators do not need to be experts in theology, scripture or church doctrine but perhaps a basic understanding of our faith. Orientation for all facilitators will take place at St. Anne on Tuesday, February 25 at 7 p.m. or Thursday, February 27 at 7 p.m., whichever date fits your schedule.
Whether you wish to join a small group as a participant or facilitator, please complete the form in this bulletin, and return to the parish or at the Information Table after Mass. Members of the Evangelization Commission will be on-hand to answer any questions. You may also contact Mike Nuzzo at mnuzzo@southportheating.com or Margie Mandli at margie.mandli@gmail.com.  Click here for an ONLINE registration form.  Click here for a printable form:  Everyday Life Groups Registration Form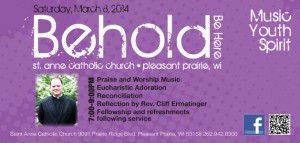 St. Anne Holds Eucharistic Event, BEHOLD, on Saturday, March 8, 7:00 p.m.
Begin your Lenten journey by attending the quarterly BEHOLD Eucharistic Event on Saturday, March 8 at 7 p.m. at St. Anne Catholic Church in Pleasant Prairie, Wisconsin.  BEHOLD is a Eucharistic event for the faithful of southeastern Wisconsin. Youth, young adults and families are encouraged to attend! Event includes exposition of the Blessed Sacrament, opportunities for reconciliation, praise and worship music a relevant talk. Featured preacher for this event is Fr. Cliff Ermatinger, a priest from our archdiocese who will speak on "Tug of War:  The Realities of Spiritual Warfare…and What Every Family Should Know." As we begin the Lenten season — a time when we are called to a closer walk with our Lord – the evil one prowls about looking to tempt souls with sin. Learn about the realities of evil forces that exist in both subtle and overt ways. Fr. Cliff will also talk about the importance of prayer and discernment in helping to combat this tug of war. Doors open at 6:30, fellowship and refreshments will follow the event. Visit www.saint-anne.org for more information.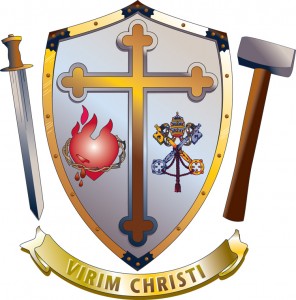 The 8th Annual
Men of Christ Catholic Conference
March 15, 2014 – Milwaukee Theater
Join men from St Anne at the LARGEST men's conference in the country.  Listen to inspiring speakers to help you be a better man, father, and disciple for your loved ones. Strengthen bonds of fellowship with men sharing the same struggles you are.
We had 27 men attend the conference last year from St. Anne.  We are looking to double that number this year, so please join us by signing up for our bulk ticket purchase by MARCH 10th.  Click HERE to order your tickets.
For more information go to www.menofchrist.net.  Also you can view a short video of last year's conference:   2013 Men of Christ Video
If you have any questions contact Mike Nuzzo at 262-515-4836 or mikenuzzo52@gmail.com