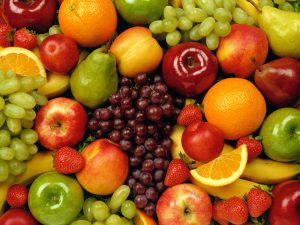 Happy New Year!  It's still January and I usually use that salutation until I start breaking my resolutions.  My son is outside shoveling right now without being asked.  He must have made some resolutions of his own – Praise God!  There's something about this time of year, Ordinary Time on the Liturgical Calendar, that gives me pause and helps me to contemplate all the extraordinary teachings of the Christmas Scriptures and incorporate them into ordinary daily living. 
I love fresh starts!  New semesters!  Brand new beginnings!  First fruits! 
First fruits are mentioned in the Bible at least 34 times. "Honor the Lord with your wealth, with first fruits…then your barns will be filled…your vats will overflow." Proverbs 3:9-10.  First fruits refers to the very best we have to offer God right now. First fruits refers to the very best we have to offer God before our utility bill-paying, before tuition is due, before planning that next vacation, before rent/mortgage and spending money get allocated elsewhere.  First fruits are not our leftovers or our discretionary income. Learning to give from our need, not from our abundance, requires a genuine willingness to recognize that everything we have comes from God in the first place and ought to be returned to Him with love and trust.  Giving our first fruits away can be a way of saying "Thank you" to God who makes us able to pay our bills, our tuition, our mortgage, etc.  Giving our first fruits away can be a way of saying to God, "I trust you, Lord, to take care of me just as you do of the flowers of the field."  Scripture says, "…Learn from the way the wild flowers grow…Will He not much more provide for you…?" (an excerpt from Matthew 6:26-33)
First fruits can be the next offertory gift you place in the basket at St. Anne's or the next check you write to the Flowers of the Field Campaign or another charity of choice that serves God and His people.   Have you taken the time to pray and consider how good God has been to you?  Is your cup at least half full or perhaps running over? First fruits, tithing, stewardship, charitable giving, sharing with those less fortunate…all worthy pursuits…all worth an investment of time to learn more about the deep spiritual meaning of each.  As I open my heart to hear what the Lord wants me to know about Himself and how to please Him I pray you'll do the same.  The Flowers of the Field Campaign is awaiting your thoughtful consideration and a one-time gift or a monthly pledge.  It's not too late.  It'll never be too late.  St. Anne's is a place where the ordinary can become extraordinary, where a fresh start on your faith journey can become a lifelong journey of faith.  It is also a place where your stewardship matters, where you have an opportunity to shape the kind of parish we are and will be well into the future.  Thank you, in advance, for your prayer, your pledges, your first fruits! We're nearly halfway to our goal!  It is a Happy New Year, indeed!
Adam has finished shoveling the driveway.  Now, there are little puddles of water from his shoes on my hardwood floor.  Ah well, tomorrow is another new beginning.  I think I'll make a fruit salad and write some more thank you notes, a special one to my shoveler.