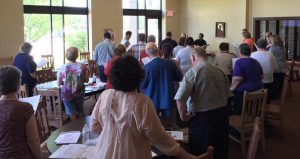 Third Session of ChristLife, "Sharing Christ" Begins April 26, 2017
Did you complete the Discovering Christ and Following Christ modules?
Or, are your looking for concrete ways to share the faith with others – your loved ones, co-workers or friends?
If you answered yes to either one of these, join us for "Sharing Christ," an adult faith-sharing program that runs for seven weeks. This program is a seven-week course to train Catholics how to share Jesus with others and invite them to become part of the Church. The course focuses on how in our everyday encounters with the people in our life, we can evangelize through personal relationships and friendships. We will develop methods and actions to do this. But more than that, the goal is to develop an attitude of heart that moves us to be open to share the Good News we have experienced anytime and anywhere
Session
April 26, 2017                     Called to Share Christ
May 3, 2017                          Befriending Others
May 12/13, 2017               The New Evangelization Summit
May 17, 2017                      Sharing Your Story
May 24, 2017                     The Power to Share Christ
May 31, 2017                      Presenting the Good News
June 7, 2017                       Inviting Others to Meet Jesus
June 14, 2017                     Wrap Up and Next Steps
A $5 per session freewill offering is recommended to cover the costs of materials and food. Click here to register or visit the Information Table after any Mass. Contact Margie Mandli at margie.mandli@gmail.com or call the parish office at 262-942-8300.
ChristLife Overview
What is the purpose of my life? Why does Jesus matter? How can I begin a better life? Tired of just fishing for answers? St. Anne's offers an Adult Faith Sharing Program, ChristLife, which comprises three distinct 7-week sessions, "Discovering Christ," "Following Christ," and "Sharing Christ." The format of each session includes a light dinner, a DVD/teaching, small group discussion and music to open and close the session. All parishioners 18 and older are invited to participate, and are encouraged to invite friends and family members to this new program. There is no cost to the program, however registration is required, and free-will donations are accepted. Individuals can call the parish office at 262-942-8300. Fall session begins Wednesday, September 14, 2016.
https://youtu.be/5-QPh2_3n2k