Our blog series continues.  Our St. Anne Blog Series, "Our Catholic Faith," is devoted to the Catechism of the Catholic Church four pillars, "What We Believe," "How We Worship," "How We Pray," and "How We Live."  During this Easter season, Linda Bevec reflects on the Holy Spirit and how when we allow the Holy Spirit to work in our lives, we are able to live according to God's will, using the gifts He gives us.  Linda is a regular contributor to our series.  She and and her husband Frank reside in Kenosha with their three children, Frankie, Claire and Grace.
"As each has received a gift, employ it for one another, as good stewards of God's varied grace." 1 Peter 4:10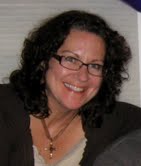 I took a walk to the beach with my daughters today. One of our favorite things to do is meander along the sandy shore and search for treasures. Pieces of sea glass in frosty blue, green and red are our favorite finds, especially when they're silky smooth from being tumbled in the rolling waves and deep currents of Lake Michigan. Sometimes we find fossils, granite, or interesting pieces of driftwood. We never know what we'll discover when we go "treasure hunting" but my daughters Claire and Grace usually head home proud with their pockets heavy and bulging at the seams.
Today, Claire was the first to spot a piece of sea glass and she held it up to the sky revealing its glowing green hue. Delighted, she eagerly searched for more. Grace began to look even harder, determined to find a piece of green sea glass like her sister, but she became frustrated and discouraged when it was time to go and she hadn't yet found one of her own. She pouted a bit and hung her head looking all defeated and mad. Then she dug deep in her pocket and tearfully said, "All I found was a stupid pink rock!" It took a lot of convincing and coaxing before she hesitantly accepted the pink rock as a suitable treasure after all, and we made our way back home.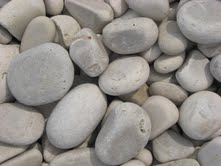 This made me think of how often we dismiss our own unique treasures because we're too busy searching only for the ones we want. Like my daughter Grace, we carry the gifts God has given us deep in our pockets, longing instead for something different or seemingly better; something others have. The bible says we are all laborers in the vineyard, each of us as God's child using the gifts He has given to us in service to Him for the church. In Isaiah 11:1-2, He talks about the seven gifts of the Holy Spirit: wisdom, understanding, counsel, fortitude, knowledge, piety and fear of the Lord.
Like the apostles, these gifts can enable us to know and love Jesus so we too can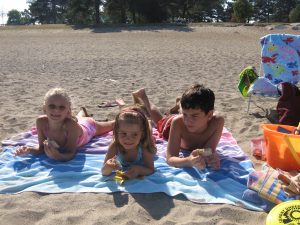 accomplish His work here on earth. What gift has the Holy Spirit given to you, and how are you using it in service to Him in this life? It's difficult to know what our gifts are, but I think we can see and even feel them at work in our lives; in the interests, skills, abilities and talents we use each and every day and the quiet longings of our hearts. We just don't always know they're there, or recognize them as unique treasures God has carefully selected just for us.
In the Catechism of the Catholic Church, we're taught that the Holy Spirit (the sap of the Father's vine is a great analogy) brings about these fruits in each one of us. And together this "fellowship of the Holy Spirit" (2 Cor 13:13) transforms the faithful and helps us participate in the Church's great mission.